How to Chat Safely on Telegram
Despite its popularity in many countries, the messaging app Telegram is not as secure as most of its users think. For starters, regular Telegram chats are not end-to-end encrypted. While the app does offer a way for two people to chat through an end-to-end encrypted channel, this option is not default. Nor is it available for group chats. Telegram also has access to all of its users' contacts and collects their metadata, including IP addresses and details about their devices. Finally, group chats and channels on Telegram are not particularly secure.
If you choose to stay on Telegram despite these risks, the safest way to message someone on the app is by using Secret Chats and setting the messages to self-destruct shortly after being read.
Use Secret Chats
The best way to protect your messages on Telegram is to use one-on-one Secret Chats that are end-to-end encrypted. As mentioned above, Secret Chats are not the default chat option on Telegram.
To start a Secret Chat, select the contact with whom you want to chat and open their profile by tapping the user's image in the header.
Tap the three-dotted symbol next to the user's name and select Start Secret Chat in the drop-down menu.
Confirm the selection by tapping Start. Once you start a Secret Chat, you will see a lock icon next to the user's name in the header of the chat.
Set a self-destruct timer
To set messages in a Secret Chat to self-destruct after being read, open the chat in which you want to use this option. What sets Secret Chats apart from regular chats on Instagram is a lock icon next to a user's name, with both the lock symbol and the name appearing in green. Once you open the Secret Chat, tap the clock icon (in the Message field on iOS or top bar on Android).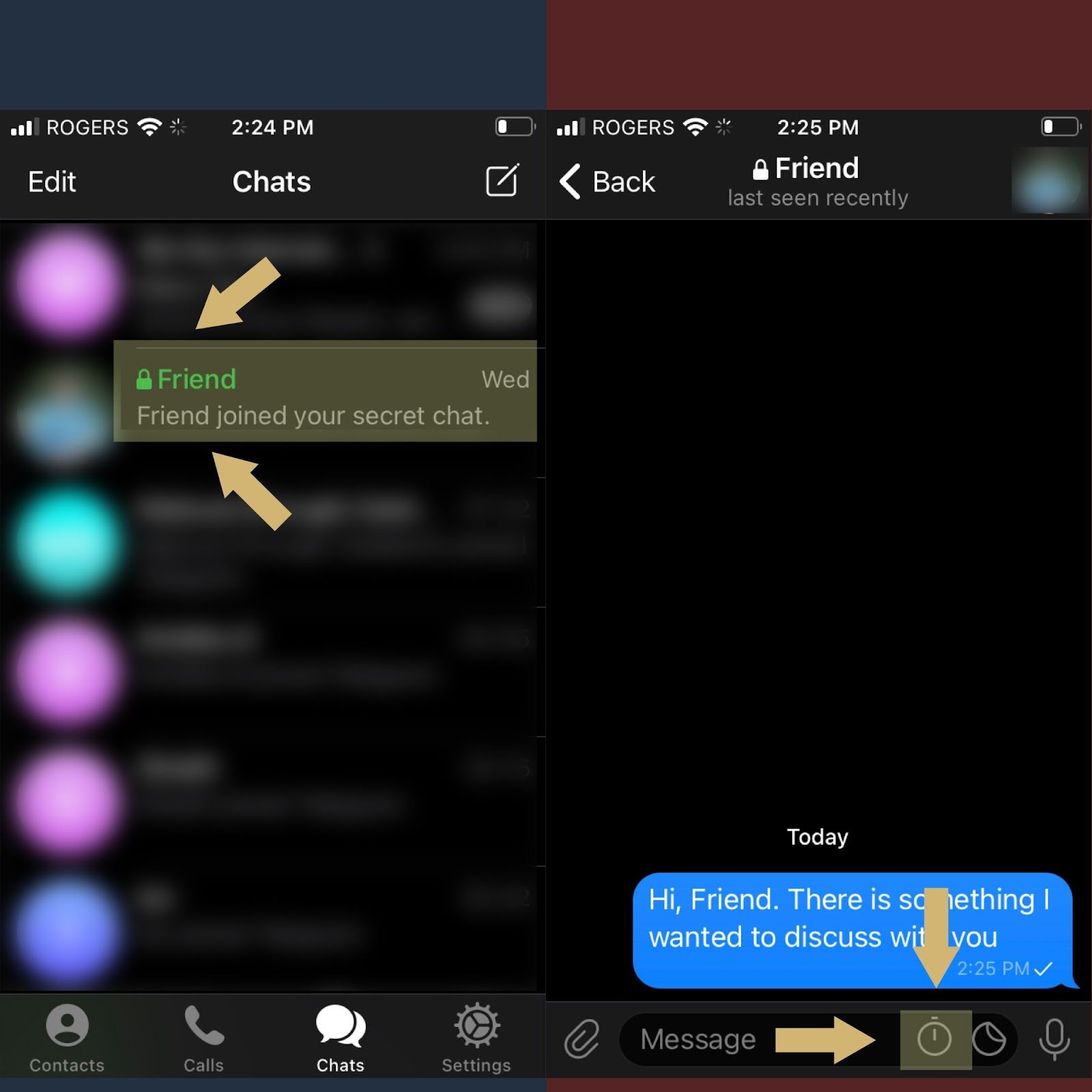 Select the desired time limit (from one second to one week). You will see the time limit set for the Secret Chat in the Message field.
The self-destruct timer starts ticking the moment the message is displayed on the recipient's screen (you will see two check marks under the message). As soon as the time runs out, the message disappears from both devices.
Please note that the self-destruct timer in Secret Chats will not have any effect on messages that were sent before the timer was set.
Watch out for screenshots
Telegram tries to detect screenshots and notify people using Secret Chats when a screenshot is taken.
Unfortunately, this function does not always work on some Android devices. You can also never know if a person you are messaging takes pictures of their screen with a different device. So, do not send private, confidential or sensitive messages to someone whom you do not trust fully.